Van Ness Large Cat Pan Sifting Litter Box Liner
Van Ness Large Cat Sifiting Litter Box Liner
Van Ness Large Cat Sifiting Litter Box Liner makes clean up a breeze. When it is time to clean the litter box you pull up the bag and the clean litter is shifitted out which means no messy scooping.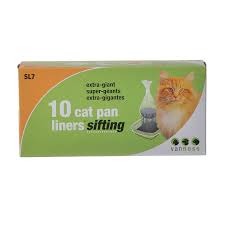 * Extra giant sifting liner
*100% recycled plastic 
*3-ply no tear technology 
*Includes rubber band to securely hold liners in place
*Fits pans 22"x18"
Makes it an easier to clean the litter box without scopping any mess left by your cat in the litter box.